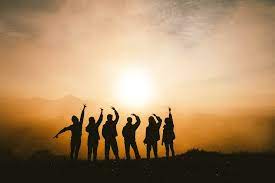 I know that, we are living in a skeptical world. Doubts play a major role in our lives now. It's hard to decide anything without having any kinds of doubts in the mind we aren't just skeptical about things but, we are skeptical about even those from whom we get most of the help. We are having doubts about our family. We are suspicious about the ways they help us in any form/manner. The basic thing is that, we have lost the solid foundation of trust.
There might be many reasons why we have stopped trusting our families like deceiving, lack of communication and our egos. One of the reason we don't often talk about is this, we don't trust ourselves so how we are supposed to have faith on others? When we don't trust ourselves, when we don't put the faith into action then it's easy for mind to go and fill itself with doubts and more doubts. Instead of blaming others all the times why don't we put our first step and start building honest relationships with ourselves?
When I say we need to be true to ourselves, it means we don't need to hide or cover up our flaws. Instead of hiding our vulnerabilities, first thing we all need to do is to accept ourselves just the way we are. We need to write down our flaws and seek help from our loved ones. For instance, someone might be having problems with his finances, some one might be having health related problems. First thing we all need to do is to establish honest relationships with ourselves. We don't need to hide our flaws behind the curtains even though people judge us.
2nd thing we need to do is to work little bit better each day. We definitely need to have consistency. With consistent good actions, we can start trusting ourselves again. When we have a fountain of trust flowing within our hearts, we start caring about our loved ones and start shunning toxic people in our lives. We need to follow 2 simple steps
Do not hide your flaws. Accept them.
Improve yourself with consistency.
When we follow the above steps, we regain our true selves. I know that, we would fail many times but, we just need to try and at the end, we will find peace within ourselves.
our loved ones  genuine care about us. They don't wanna to see us fail. They are immensely happy when we share happy news with them and they offer solutions when we are in a problem. Everyone thinks that US dollar is the currency of the world but, it is the trust. It's the trust that helps you to build network of people who can support your life goals. We need to focus back on the foundation of life again. In order to have relationship with anyone, we need to give importance to trust first instead of meaningless sex.
The bottom line of this blog post is this- your loved ones (family) care about you. They don't wanna to see you  failing  in your life. They are doing their best to bring stability in your life. Be grateful to them. Love them with all the strength and courage of your soul. They deserve the best.
Go get a life with your loved ones!
Your loved ones (family) care for you