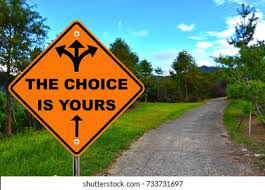 We are so fortunate that, we got freedom of choice. We have the ability to think and plan our future. It is the freedom of choice that makes us unique. We have the ability to Decide what's best for us. We have the mighty will to make our lives a better one. Let's discuss about this special power in detail.
Why Freedom of choice?
The basic question we need to ask is this- why are we given freedom of choice? Are we special? May be we are. We are born on this planet for a special cause. We all are on a mission. A mission to build, create and value lives that would compel the world to move forward. For some people, it is easy to find the purpose. For some, it's not that simple. I think that, freedom of choice is given by God to us so that, we can decide between good and bad.
Why Freedom of choice really matters ?
Everything we do or say is completely dependent on our choices we make daily. As I said it earlier, we have the ability to think because, of this skill, we are different from the rest of species on this living planet. It is up to us to decide what kind of thoughts to bring into our mind. We have the capacity to choose between heaven and hell. We have the power to decide between righteousness & unrighteousness. Constructive ThinkingI think that, Freedom of choice is a dangerous power because, anything we choose (good or bad) our actions reflect those choices may be that's why, we need to rationally.
Components of freedom of Choice
We are so fortunate that, we have the ability to think and take actions in our lives. We all think about the future and take actions accordingly. Better future depends upon what choices we make in the present. It is not guaranteed that if, we are thinking good about our future, good things are going to happen. For that purpose, we need to open to the challenges in our mind by keeping our focus on all the sacrifices we are making in our present for better tomorrow. By choosing right attitude, everything is going to be just fine at the end.
We have freedom of choice when it comes to show our emotions. Here is a beautiful quote I would like to share-
"Keep this thought handy when you feel a fit of rage coming on- it isn't manly to be enraged.Rather, gentleness and civility are more human, and therefore manlier. A real man doesn't give way to anger and discontent, and such a person has strength, courage, and endurance – unlike the
angry and complaining. The nearer a man comes to a calm mind, the closer he is to strength."
-MARCUS AURELIUS, MEDITATIONS, 11.18.5b
At the end, I would like to say that, The greatest gift we got from God is the freedom of choice. May we choose righteousness over unrighteousness, humility over pride, Purpose over pleasure!