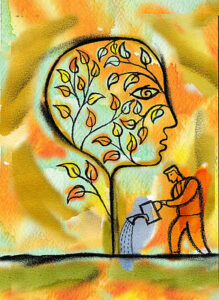 There is nothing more than heroic, when some one becomes serious in his life and actually take care of his responsibilities. The profound meaning of life is embedded in taking small steps towards self-improvement that not only benefits you but, to all those who are associated with you.
There are 5 things that you must fight for in order to transform your life from hell
1.Fight to embrace your flaws– you are not good at doing your school homework embrace it. Suppose you are not good in making sales, communication, swimming, relationships, it could be anything, you just need to embrace it. Instead, of disliking yourself or having negative thoughts coming to your mind, try not to cover your flaws. Put one thing straight to your head and to your mind as long as you are making genuine efforts to straighten up your life you will be fine. Good things take time and let time to do its magical job. Flaws make you unique.
2.Say at least one positive thing to yourself in a day- make a promise to yourself today, right now that you will think more positive about yourself than negative. If any negative thoughts come to your life you will say 'let it go' and keep saying this phrase until it's gone. Enrich your mind with hope for better future by taking actions to work on it. It does not matter whether have a penny in your bank account or a million dollars just make efforts to think highly of yourself and experience the positive change.
3.Set priorities and complete them- if you really want to go for a good fight, be productive in your daily routine. Say yess to all those things that are helpful to reach your potential and try to shun all those activities that are nihilistic, resentful and evil towards your mission. Take your daily routine/ tasks seriously. For instance, you have set priority to clean your room then, clean it. You have made your mind to sit and read an important document then, read it. It could be anything but, make sure it's productive and gives you inner satisfaction. Make a schedule and stick to it. It will set you free!
4.Stand up for your values- you need to define your core values that you deeply care about. Do not define your value system in rush or when someone ask you to do that. Take your time and think deeply and write about the things that you care about. Our fundamental values are hidden into our daily routine and the action we take to accomplish them. I would like to share my values with you.Courage will make your life a Blessing
Humbleness over materialism.
Responsibilities over false sense of pride
Being Grateful
5. Learn to listen- anyone who likes to improve in his life value the importance of listening in his life. Only fools know about everything. Have a learning attitude. You not only listen to people who support you but, to those too who are critical of your actions, opinions. Trust me your critics will tell you on your face where you are wrong without any hesitations. You might not like it. You need to know that truth is always difficult to digest . People with learning attitude constantly learn and make significant progress in their life. Our generation loves to take control over things. We love to give commands to others whether people or to our electronic gadgets. Make a habit of listening to others who push you higher and challenge you for the good. Respect them and take them more serious than your friends.
At the end, I would like to say one thing. Be a good fighter and fight for good cause so that, you don't have to regret when you are lying in your death bed!