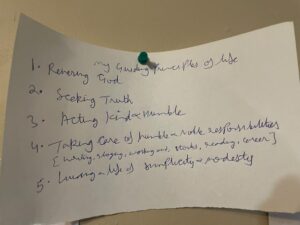 People are wrong when they say that, life has no rules, no principles, no laws. So many people especially, the young ones are living in a bubble when their famous superstar say to them in life there's no boundaries. That's all crap. Life got a basic structure, guiding principles/rules/laws when followed lead to peace & prosperity. This blog post is for all of those who are looking to form an organized structure to give a steady direction in their lives.
I genuinely believe that, there are some guiding principles that we must follow to live our lives. Now the question arises what are those guiding principles? Very simple answer: seeking truth, Acting just and fair, revering God, be content and live a life of modesty and simplicity. These principles are very simple to write down on a paper but, if you ask me about following them well, that's pretty hard. But, it's worth it. Anytime I do a mistake, these guiding principles direct me to follow the path of righteousness.
We need to keep one thing in mind that, we are not smarter than the one who created us. We are not smarter than the one who brought up us into the universe. Yes, I'm talking about the God/higher power. We make mistakes. We don't follow the guiding principles all the time that's all fine. But, one thing we need to do constantly is that, we need to get up and re connect ourselves again to the laws of life to keep moving forward in a steady direction.
I was reading a book named Meditations by Marcus Aurelius. There's so many great thing about the book but, one thing Really caught my attention was that, what should be the behaviour of human beings when there's chaos in life? So, I would like to share the paragraph from the book
"Suppose that men kill thee, cut thee in pieces, curse thee. What then can these things do to prevent thy mind from remaining pure, wise, sober, just? For instance, if a man should stand by a limpid pure spring, and curse it, the spring never ceases sending up potable water; and if
he should cast clay into it or filth, it will speedily disperse them and wash them out, and will not be at all polluted.
How then shalt thou possess a perpetual fountain [and not a mere well]? By forming thyself hourly to freedom conjoined with contentment, simplicity, and modesty."
I said to myself that's it! That's what I was looking for. One should be like ever running fountain any problem arises, one should go back to the basic principles that govern life. No matter how many times you go and visit your principles but, it's important to make mind to seek help from them!
I know that, the world is a cruel place. You got all kinds of addictions. I hear you. I even know that, you have done everything in your control to eradicate toxic things/ addictions out of your life but, some how you are stuck. You are helpless but, you need to say this in your mind that, you are like a perpetual fountain. Bad things can hamper your physical body but, there's no way it can damage the strength and courage of your soul.
Make a list of guiding principles right now that will guide your life. It's a good way of living. You can have peace of mind with that! I have already mine on the wall. You do the same thing. Anytime you feel the urge to do something stupid go back to the list and read it aloud. I'm sure your guiding principles won't let you fail.
May God be with you!